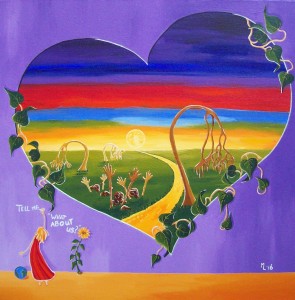 Tell me what about us?
"later that night
i held an atlas in my lap
ran my fingers across the whole
world
and whispered
where does it hurt?
It answered
everywhere
everywhere
everywhere"
* Warsan Shire.
When i read this poem for the first time it went straight to my heart, and when we received a new assignment at the art-circle to create a landscape in our own style, i knew i wanted to do something with that poem.
So here it is. I hope you like it.

( Acrylic on canvas, 50 cm by 50 cm)