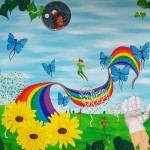 A Brand New Day
One day, as caterpillar, I dreamed I could fly
I know this cannot be true, it must be a lie.
But I really did see myself high in the sky!
maybe a brand new day will make my dream come true
with the sun shining down brightly, colors changing hue
A brand new day is going to come, feel it in the air
today it's still raining, tomorrow the Gloved One will be there
guiding me through the much needed change
my head starts spinning and I feel strange
wait, what is happening, why is it getting dark ?
Am I still a little caterpillar on an apple in the park ?
I am confused now, don't know which way is up
help me, is this still a dream, I need to wake up!
So where do I go from here, it's dark now and still
inside me I feel a change coming, such a thrill!
better ask the Scarecrow for some sound advice
he looks pretty foolish but is actually very wise!
The rain is gone now, all is wet with tiny drops of dew
as the sun peeks from behind a cloud,
another day is forming, gently, softly and brand new
Joy erupts from the heavens, a rainbow is here.
The Gloved One whispers Rainbows are signs of joy and of love
Newborn butterfly dry your wings and fly high above!
Believe in your dreams as they may come true
Joy may come again, even if you're feeling blue!
*Elmira*
As you know i'm not that good with words, but my friend Elmira is. She found the words to go with my latest painting. Thank you my friend!