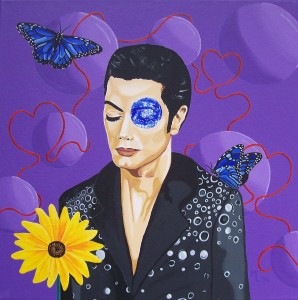 Gentle Man.
Dear Michael,
Thank you
Thank you for making this world a better place
Thank you for waking me up from a life not really lived
Thank you for turning my world up-side-down and back again just the way it is supposed to be
Thank you for helping me find my inner child
Thank you for taking me on that wonderful and magical journey called life
Thank you for your beautiful messages of Love which show me the path to follow
Thank you for believing in me so that I know that what I am is enough
Thank you for teaching me that we are all one
Thank you for the magic that is all around
Thank you for the Love that is everywhere
Thank you
I Love you!
Namaste
I don't usually do a lot of explaining about my art, because i want every one to make of it, and see in it, what they want, and when i tell my story there's no room for their story, but i feel i have to make an exception here. i hope it doesn't intrude with everybody else's feelings. When i posted this one on Facebook, questions were asked and by doing so people make me think about the meaning of my art, i usually only use my gut and my brushes, but it's good to put my feelings into words.
So here is what i wanted to say: To me Butterflies represent transformation, the ability to change and connect with the spiritual side of life, of this world. Michael and, especially blue, butterflies have always been present in my work. I don't know when it happened, but in my family Butterflies are also the connection to loved ones that passed on. A year after my mom passed on i planted a butterfly tree in my garden. Whenever i see a white butterfly i think of my mom and send her Love. My sister lost her husband two years ago, and last year, her then 5 year old daughter ran passed me into the house of her granddad shouting: :" Oh, hi dad!" and then turning to me: "See? dad's here too" meaning the little white butterfly playing around in the garden of my dad. So it's a family thing…  This image of Michael is so beautiful, to me it's such a spiritual image. I know the blue eye is supposed to represent the hurt the world inflicted on Michael and that he transforms it into art in the form of that blue eye, for all the world to see, but to me it also represents his connection to the spiritual side of life, that's why i also added the two blue butterflies. I know the original picture is very dark, but i wanted to make it a bit brighter, more playful and magical…. I kept the little mirrors on his jacket just like in the original picture, because i love Michael's quote: "If you wanna make the world a better place, take a look at yourself and make that change" That's the Message of Love which started my own journey with Michael, and those little mirrors remind me of that. Oh one more thing: about the 7 balls. They represent the troubles we encounter/Michael encountered through our/ his life, and that little red cord with the 3 hearts represent the Love which help you/ helped Michael, to put up with everything life throws at you/him." Love is the Answer". Oh, and Michael, Sunflower, 2 butterflies and 3 hearts make 7 as well. There are the numbers again. Love to you all