Last week i found a quote of an old song on Facebook. It says: "Here comes the sun. And i say, it's alright"
Couldn't get it out of my head. And a picture formed itself in my mind… A new painting. So, i began with an empty canvas (60 cm by 80 cm) on Saturday. There was a heatwave here, so i had no place to go, besides inside the house, in front of the ventilator.
First step. Background
Now how do i get 11 elements in the landscape? I always play with numbers, so this one was no different then my other paintings. and next i had to paint a "puzzle frame", this sort of painting requires a frame, this time it had to be black because i wanted to keep the amount of colors minimal.
End of day one.
On Sunday i started with the little project that had to become part of the bigger picture. Michael…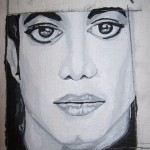 About 4 hours later this was the result. Not quite happy with it, but had no idea how to fix it yet. That had to wait for now…
I used a different kind of canvas for the portrait and glued it in the background. Hey, the sun is here now 🙂 It has 7 shades of purple spots on it. Here i'm creating highlights and shades. At the end of the day, after midnight, i finally knew what to do with Michael. I had to shorten the face, among other little things. So it was early Monday morning when i finally went to bed…
Monday morning bright and early. I'm celebrating my Summer vacation, so all the time in the world to do some painting. Day three…. Time to fill in the background.
7 hearts on sticks. (Yep, there's Dali's influence again…)
Highlights on the black frame… And then, finally, another color, i must admit. Al these shades of black, grey and purple are beautiful but now it's time for some blue…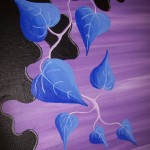 Here's the blue, in my favorite kind of leaves, and there's the number 7 again.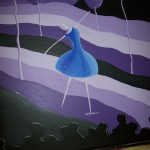 And here's the dancing little princess. I wish i could dance like that and had her lines, but i'm the artist here and i can paint myself how ever i like 🙂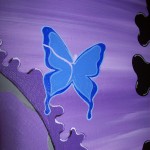 Blue butterfly in the making… There simply has to be a blue butterfly in this one, one can never have enough blue butterflies, those are signs of hope in my eyes.
After some final touches i'm done. Took me three days. I can't move my right shoulder, arm and fingers but i had great fun creating this.
Oh, and i case you're wondering what ever happened to the number three? Three spots where there's blue. And Michael, little princess and blue butterfly, also makes 3
"Here comes the sun, and i say, it's alright."