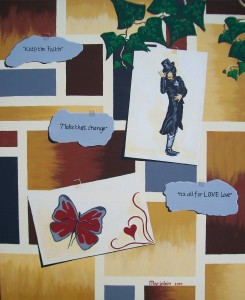 I 'm not a big talker, I 'm not that good with words. I talk with images, pictures and I hope they do the talking for me. But now I 've made this painting, just for me, but maybe you would like it too.
It's called: Things that matter.
……First time I saw this picture of Michael it looked like he was saying to me: "hey, I 've done the best I can, now it's up to you, LOVE"
……There are three quotes which are dearest to my HEART:
"Keep the Faith."
"Make that change."
"It's all for L.O.V.E. Love!"
……A butterfly who says: "Yes you can make that change, I could, so can you, everybody can and this world can be healed. I 'm here to give you HOPE."
……And those leafs, they're from a bush that grows on the ground, up the walls, all over the place, there's no stopping it. That's STRENGTH.
I think it's some kind of message board to keep me focussed, because people hurt, vision gets clouded and heart gets heavy
Life paints you a pretty ugly picture sometimes. But these are the things that really matter:  LOVE, HEART, HOPE and STRENGTH
And I wish all of these things to you!