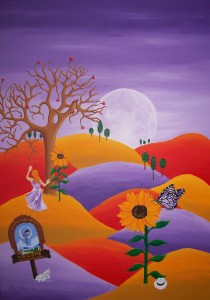 I talk too much. 🙂
My last painting is the living proof of that, i get so enthusiastic about all the things that are in my heart, i start to talk and talk and forget about the brakes. What i originally wanted to say ends up hidden behind all the things  i want to say also.
My voice has been hidden for a long time, i was numb, what i wanted to say didn't matter, it wasn't going to make a difference anyway…
But then i found my voice again, somewhere around June 25 2009. It was the day i discovered Love didn't leave, had never left, Love was still here for everyone to see and feel. So i found my voice and started to talk and talk and talk, and sometimes in the end, it left me with the feeling that i even didn't hear what i wanted to say. The truth is that i was scared to death that my voice was gonna leave again, and there are a few paintings living proof of that. So is that last one…
What i wanted to say with my last painting is this:
I didn't get to see and feel Neverland this year, so i painted the Neverland from my dreams. Heaven filled with peace and joy for everyone to enjoy.
Margareth Becker put it like this in one of her songs: "Just come in, just leave that right there. Love does not care"
( Who ever you might be and whatever you might have done, Love doesn't mind. Love loves you anyway)
All the other things i wanted to say have to wait until another time. I trust the universe, my voice isn't going anywhere, it will stay right  here with me.
Love to you!